Celebrating international peace day at Yaffa Arabic Institute in Amman! 
Can you imagine humankind living in peace together? Can you forefeel what it must be like when people of all different ethnicities, religions, and spiritualities live without harassment, discrimination, and racism?
In celebration of international peace day, URI MENA and the Yaffa Arabic Institute hosted a dialogue event on Saturday, 24th of September. The following CCs took part in the event; Desert Bloom, Jordan Seeds of Peace, and Mercy. The theme of this year was "end racism. build peace," and two inspiring Ladies shared their thoughts and optimism about living in harmony together.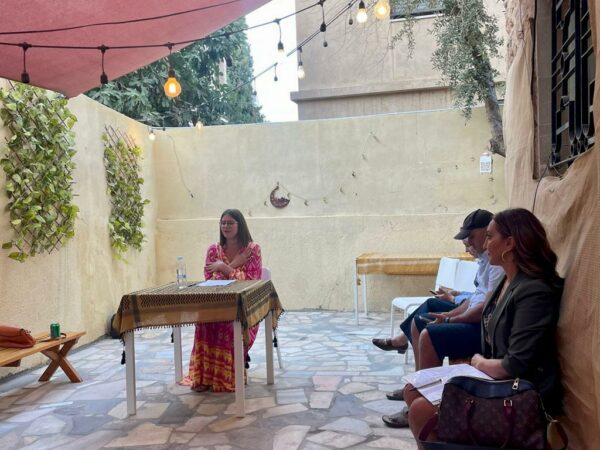 Sarajan Barakat is an activist who raises awareness about mindfulness and emotions, equality, inclusion, and unity. She participated in many initiatives related to the environment, emotion release, and collecting things for refugees. Most of them she initiated herself.
Sara took us on a journey in our minds. We had to imagine what it feels like to be faced with insulting remarks, bullied to the ground, and helpless in a specific situation. Next, we had to put ourselves in the position of the perpetrator. What a rapid change! Confused initially, we thought about the reasons and inner motivation of the offender to be mean to someone else. This exercise helped us to be true to ourselves and look for all feelings in our authentic selves. Everyone has a small part in us that is selfish, rude, or mean. The question is wheater we embrace it and, by this, help it to minimize it or ignore it and won't be in control of it anymore. Saras path the peace: It starts with every one of us!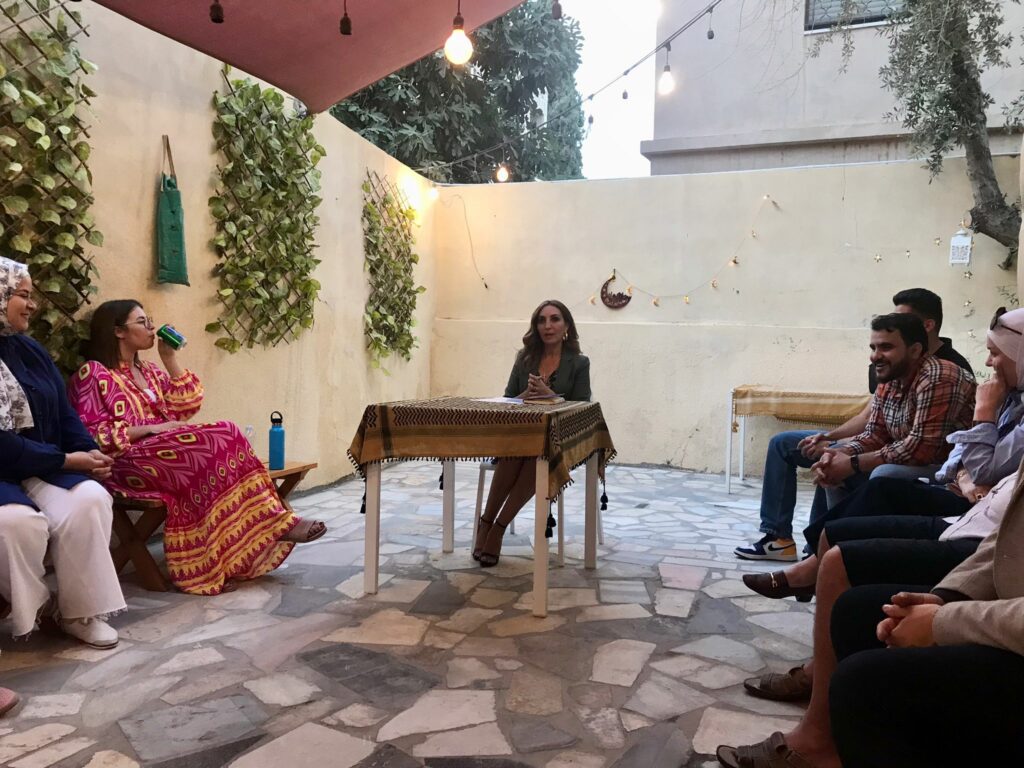 Rula Samain is a journalist in Jordan Times and covers topics related to women's rights, animal's rights and archeology. Above all, she is a well-known expert in intercultural dialog.
Rula had a fantastic speech prepared for us, inspiring us to take action for peace immediately. The good news is: every one of us can become an advocate for peace today. However, this can't be done in silence. Discrimination, injustices, and wars need brave people to stand up, not complain in silence, hoping something will change out of the blue. This way of thinking starts in our daily lives: if we see disrespectful comments on Social Media, we are the ones who can draw attention to it and counter speak, don't wait that others might write something beneficial. 
Rula especially emphasized our role in interfaith dialogue. If we engage in a sincere conversation with ourselves and embrace our weaknesses and failures first, we are steeled to cherish other people's points of view and opinions. This will enable us to build bridges to an allegedly another side. 
Both fantastic speakers emphasized the role of ourselves in making a change. It was an honor to have you both at our event; thank you so much! 🙂 
So let's end racism and build peace, not only during International Peace Day.