Have you ever heard of Pączki, Chopin or Wawel castle?  
Yes? You're probably very familiar with one specific European country.
No? Don't worry! We will shortly introduce you to a country that will amaze you with its rich culture, diverse traditions, and delicious food. Watch out – the travel bug is about to bite you! 
Currently, Klara, Oktavia, and Polina doing their volunteer service at the URI MENA office. All of them are volunteers from the European solidarity corps. Sponsored by the European Union, young adults receive a stipend to engage in a charitable project abroad for a limited period. The aim is to strengthen the understanding of different religious and cultural perspectives and to immerse in a new environment. Volunteers can work on various projects, including youth engagement, environmental protection, and enhancing healthcare. Klara, Oktawia, and Polina worked for Desert Bloom, a Corporation Circle of URI MENA. The tasks are very diverse and aim to assist the team with the projects they are conducting, e.g., social work.  
Also, all three ladies are from Poland although from different regions. Last night, they held a Polish night at URIs office, sharing interesting historical, cultural facts and food. So, if you missed last night, we got you covered and share some insights: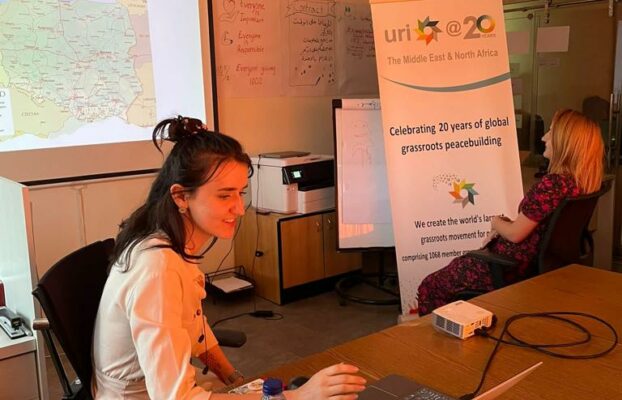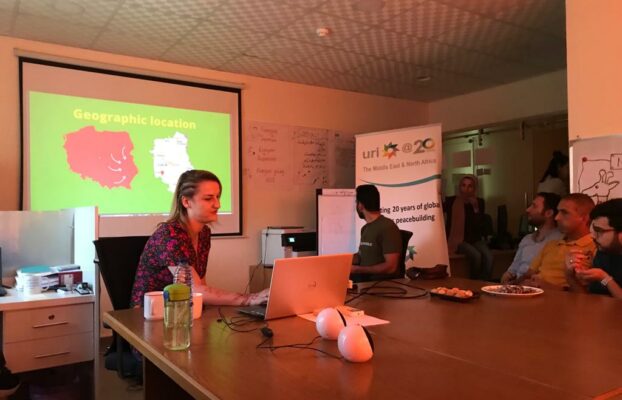 Klara studies in Warsaw, a city in the Northeast. Warsaw was nearly completely destroyed during the Second World War. However, the Polish people decided to rebuild the city as it was, using ancient pictures and literature. That is why Warsaw has a beautiful old town with cobbled streets and medieval buildings. Here you can find a short video of Warsaw's transition during the 1940s and 50s.
Polina lives about 2 hours South of Warsaw in a vibrant city called Lublin. Lublin is the ninth largest city in Poland and home to five universities. There, you can discover tons of cafés, restaurants, and bars. Also, there are many cultural highlights, such as a romantic festival with concerts on rooftops or a magician carnival, including workshops to learn some tricks. However, last night, one thing amazed everyone: a 'Portal' connecting two European cities, Vilnius (Lithuania) and Lublin (Poland). The portal lets you see and talk to the person in the other city. It's a great symbol of how the internet can get us closer to each other. See here for more.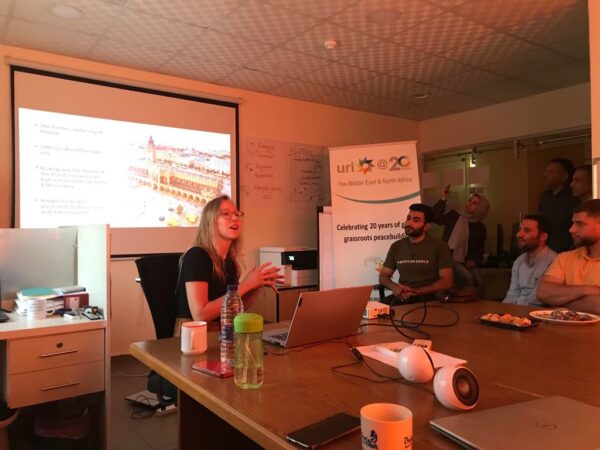 Finally, Oktawia presented the city of Krakow and told spooky and heroic legends. Once upon a time, a dragon was roaming the city. It fed on cattle, but it loved eating virgins. None of the knights managed to overpower the dragon. Only one cobbler succeeded. He filled a lamb with sulfur and left it in front of the dragon's lair. The dragon ate the lamb and immediately got enormous pain and burning in its throat. The dragon drank so much water to quench its thirst until it burst. The moral of the story is that it is not the strength of muscles that matters but wisdom and skill. To this day, a sculpture commemorates this tale.
Everyone who came to the Polish night had a fantastic evening. The questions asked after the presentations opened up for discussion and sharing great memories and laughter. Besides, the three ladies served traditional Polish cookies and sweets you need to try. Until the start of your journey, watching the following videos will surely increase your excitement for Poland: